RESIDENTIAL CONSTRUCTION:
Our clients have a vision for their Anguilla home. ORB partners with our clients, Owners, Architechts and Project Managers, to fulfill, and often exceed that vision, in the best, most sustainable way
We offer turnkey solutions from the initial design consultation, land clearance and surveying period through to procurement of materials and construction - including pools, interiors and landscaping.
Interpretation of design style and the quality of finish is a major component of luxury homes, we have the craftspeople and expertise to fulfill your creative expectations.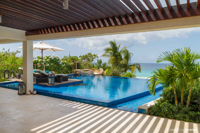 Examples of craftsmanship: 1 Bathroom tiling and decorative stone inlay. 2 Jacuzzi tiling. 3 Handmade wooden Gazebo. 4.Local stone wall, beach gate and landscaping 5. Double infinity pool.
Read more about some of the beautiful homes we have constructed, which range 1 bedroom villas and 2 bedroom beach apartments to an 8 bedroom estate
– Please visit our PROJECTS page here.
To learn more about how we work in collaboration with Owners, Architects, Project Managers and other specialist contractors please read this article